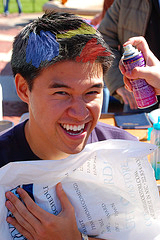 Crazy Hair Booth




$495.00

Starting At

Contact us for pricing and details.

Bring color and excitement to your next event. Our creative stylists know how to give each guest a unique, edgy, fun look using color sprays, glitter, adornments and more! One artist can do approx 15-20 guests in one hour.
Experienced crazy hair stylist
Colorful 5x5 canopy with signage
Fashion chair
Mirror
All supplies needed to "style up" your guests with colorful maker overs.